Chocolate
EXCLUSIVE VARIETY AND PURE DELIGHT FOR YOUR SOUL
"Tafelfreuden" finest chocolate by Lauenstein - incredibly delicious and sought after. Truly that amazing that we produced an extra large XXL version of this popular chocolate bar named after our castle "Burgtafeln" by Lauenstein. Along with the motto: the taste of seduction! The assortment of those bars consists of 6 main flavours: Latte sal, hazelnut, cranberry, pink pepper, mint and wasabi pumpkin seed. You might also want to enjoy our delicacies in a heart- and soul-warming hot version as chocolate fondue or drinking chocolate. Pure indulgence.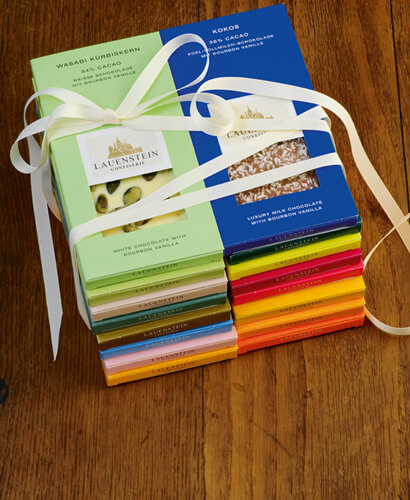 CHOCOLATE-
bars
Chocolate bars are the most well known type of chocolate joy. The lavish process of hand making chocolate specialities and creating exquisite products using the finest recipes makes these bars a special pleasure.
Discover now
Chocolate
+ Tea =
Indulgence
For the unique experience of tasting the blend of chocolate and matcha tea our connoisseurs have created a very special flavour – taste the exceptional.
OUR MOST ADMIRED CHOCOLATES